No More Yearly Subscription Fees!
CyberScrub AntiVirus provides state of the art security protection for five years- at one low price. Our award winning technology ensures protection against viruses, worms, and trojans backed by top customer support and value. more>>
Five Year Cost Comparison
Product
Cost

Yrly Fee

X 4 Years

Total
Norton AntiVirus
$49.95*

$29.95

$119.80

$169.75
McAfee VirusScan
$49.95*

$19.95

$79.80

$129.75
Panda Platinum 7.0
$69.95*

$39.95

$159.80

$229.75
Trend PC-cillin
$49.95*

$24.95

$99.80

$149.75
Eset NOD32
$39.00*

$27.30

$109.20

$148.20
eTrust EZ Antivirus
$24.95*

$12.95

$51.80

$76.75
CyberScrub AntiVirus
$49.95

Included

No Additional Cost

$49.95
*All prices MSRP as published on respective sites.
Protect your computer
It is only a matter of time before a virus, worm or Trojan hourse wrecks havoc on your important data. Important files, records, family pictures- all at risk. Some dangerous programs can even ruin your hard drive beyond repair. more>>
CyberScrub AntiVirus offers the most effective protection from all known and unknown viruses.
CyberScrub AntiVirus is powered by a unique integrated technology for virus detection, based on principles of multi-generation heuristic analysis. This allows the program to protect you from suspect "viral behavior." This highly effective methodology repelled all attacks of each "I LOVEYOU" virual variation without any additional antivirus database updates. No other technology, including Norton, Trend, or McAfee, was able to accomplish this.
CyberScrub AntiVirus is powerful, yet its exceptional ease of use and installation make it acceptable for beginner to pro.
Keep Your PC Virus Free
CyberScrub AntiVirus constantly scans your hard drive and files to identify, clean and destroy infected objects. With updates available every three hours, 24 hours a day, 365 days a year, you can count on CyberScrub to protect your valued data.
Awards Winning Technology!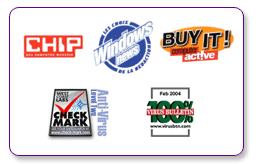 Testimonials
"Super program" - I would recommend this antivirus to anyone. It really works and is easy as pie to use.
Don R.
"Wow, what a great solution" - After using Norton and McAfee for years and having viruses get through and wreck havoc on my computer, finally there is a solution that catches all the viruses that have hit my machine. I found out about CyberScrub AntiVirus from a freind who's a real techie and I really owe him thanks.
Cynthia K. more>>
System Requirements
Windows XP Home Edition/Professional:
• Intel® Pentium® II processor (or analogous processor)


at 300Mhz or higher
• At least 128 MB of RAM
Windows 2000 Professional:
• Intel® Pentium® II processor (or analogous)


at 150Mhz or higher
• At least 64 MB of RAM (96 MB recommended)
Windows® Me/98:
• Intel® Pentium® II processor (or analogous)


at 150Mhz or higher
• At least 48 MB of RAM (64 MB recommended)
General Requirements For All Operating Systems:
• At least 10 MB of available hard disk space
• Internet Explorer 5.5 or later with Service Pack 2
• No other anti-virus programs previously installed on


your computer, including Kaspersky Labs products
Please Note! CyberScrub AntiVirus does not run under Windows server versions or any 64 bit Dual Processor machines.